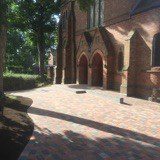 What a delight it has been working with Short Heath Methodist Church on their recent refurbishment project! We were honoured to be in attendance at the celebratory open day at the Church and hope the new improved building brings much joy to it's parish.
'What a wonderful project you have completed at Short Heath Methodist Church. All who attend church services and activities are delighted with the result of the scheme.
It is noted with thanks how well the task was organised – the site kept tidy, access to church services and activities safely available and timescale adhered to. The quality of the workmanship has been observed and highly regarded. Indeed, everyone is well satisfied with the sterling work you have carried out. Thank you to you and all your staff.
We are planning an event to celebrate the improvements to the building and we would be delighted if you could attend. This is most likely to be during early Spring 2017, so we will contact you when details have been finalised.
Thank you again for the splendid work.'  Iris Cooksey, Secretary, Finance and Property Committee.
Related Images: